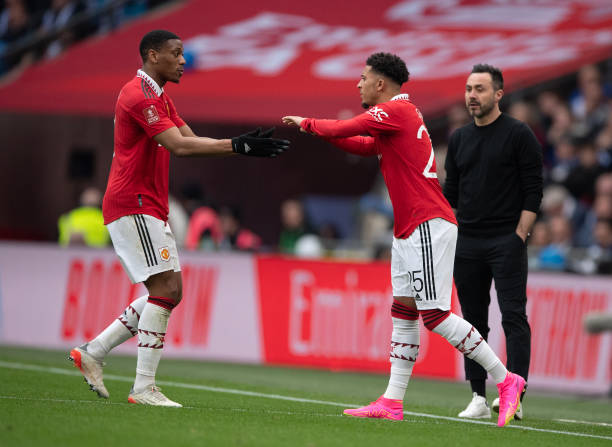 Manchester United are planning to replace Anthony Martial with Jadon Sancho's 'idol,' according to a report.
The Red Devils are willing to let go of the Frenchman in exchange for another high-profile player.
Manchester United are reportedly eager to trade Anthony Martial during the upcoming transfer window in order to free up finances and space in the squad for a marquee signing ahead of next season.
Martial joined Manchester United as a youngster in 2015 for a fee of £58 million, with big things in store for the Frenchman. However, inconsistency and injuries have hampered his time at Manchester United, and Erik ten Hag has grown frustrated with his lack of availability.
Walking straight down the tunnel after being replaced in the 57th minute against Bournemouth on Saturday didn't help matters, and while the Dutch manager didn't publicly criticize his player, rumors suggest he is open to offers.
This summer, United will try to unload Martial, who has only one year left on his contract. This season, the 27-year-old has made just ten Premier League starts, with four separate injuries all contributing to his absence.
Transfermarkt now rates Martial at €15 million, though Manchester United is anticipated to increase that figure. More cash would boost their transfer budget, allowing them to sign another high-profile forward to replace him.
Indeed, the Red Devils are apparently interested in signing Neymar Jr from PSG. According to L'Equipe, Manchester United has begun talks with the Brazilian to bring him to the club on a permanent basis or on a loan basis while contributing to his large salary.
Brazil teammate Casemiro is reportedly said to have approached Neymar about a possible trade, something Jadon Sancho would undoubtedly welcome.
When Neymar inspired Barcelona to a 6-1 victory over PSG in the 2015 Champions League final at Camp Nou, overturning a 4-0 first-leg deficit, a 14-year-old Sancho tweeted, "My idol Neymar."
Sancho, now 23, would certainly compete with Neymar for a starting berth in Manchester United's starting lineup if the 31-year-old moves to England.
PSG fans would also welcome Neymar's departure after protesting his presence at the club earlier this month at his home.
Manchester United are planning to replace Anthony Martial with Jadon Sancho's 'idol,' according to a report.